Long-Eared Bat Taxonomy in B.C.
The Ministry of Environment in B.C. [Laura Friis, Purnima Govindarajulu] teamed up with B.C. bat biologists Cori Lausen, Dave Nagorsen and Doug Burles, to conduct a thorough investigation of long-eared bat species in the province. There has long been great difficulty in telling these species apart in hand, especially the red-listed Keen's Myotis versus the Long-eared Myotis. In the western part of the province there are 5 species of long-eared Myotis species. Using a combination of genetics, morphology and acoustics, the goal is to determine: 1) Are these similar looking bats separate species, or are they interbreeding?   2) If distinct species genetically, what traits or combination of traits can be used to tell them apart?
Main study locations have included Haida Gwaii, Skagit Valley/Manning , Okanagan, Hazelton, Merritt, greater Vancouver, and the Columbia Basin. We are in our final year of research in this project – results are forthcoming. Collaborators include BC Habitat Conservation Trust, BC Forest Science Program, Fish and Wildlife Compensation Program Columbia Basin, Dr. Jan Zinck (Portland State University), Dr. Tanya Dewey [University of Michigan[, and Dr. Mike Russello [University of British Columbia, Kelowna].
Winter Bat Hibernation and Flight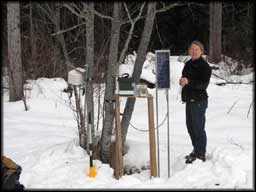 As part of her PhD work, Cori discovered that bats fly during the winter, often in below freezing temperatures. Why do bats fly during the winter? What species tend to be most active? What do bats roost in during the winter [ie. what are they using as hibernacula]? Cori has begun winter bat research to try to answer these questions. In the winter of 2009-2010, work began in B.C. [all of southern B.C.] and in Alberta [Dinosaur Provincial Park].
B.C. Research
In B.C., passive acoustic monitoring has taken place every winter, recording the ultrasonic signatures of bats as they move seasonally in fall and spring, and for some species, flights throughout the winter. In Year 1, bat detectors were mainly located in the West Kootenay, but the study area now encompasses much of southern BC, and is starting to creep northward into Lillooet and Prince George areas. Most recently, mist-net capture, and radiotelemetry has taken place in some southern BC areas. Preliminary data suggest that most low elevation mines are used by bats. Several important mine hibernacula have been located in the West Kootenay, with more bats and higher species diversity than any other previously known bat hibernacula in B.C. The most diverse mine hibernaculum houses 4 species. Some species are remaining in buildings; at least 4 species use rock crevices.
Likely in part due to the mild weather, bats were extremely active throughout the winter. Cori mistnetted bats at mine entrances like this one, below, in January-February, capturing California Myotis, silverhaired and Townsend's Big-eared bats, Corynorhinus townsendii [photo below, right].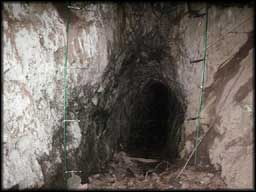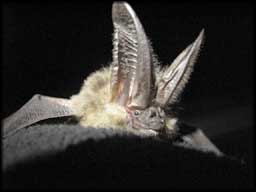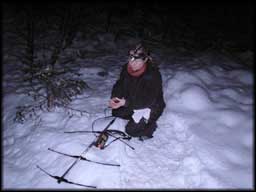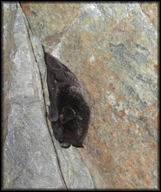 Hibernating silverhaired, like the one pictured to the right, have been documented in a few other areas of B.C.; this find confirms that although this species migrates south throughout the rest of its range in Canada, silverhaired bats are year-round residents in B.C.
In the far right photo, Cori prepares to release a bat with a transmitter. Through radiotracking of silverhaired bats mid-winter, Cori found that this species alternates between snags or live trees, and roosting in crevices or mines; they are relatively active, switching roosts many times throughout winter. Cori collaborates with many biologists and agencies on this winter research, including BC Ministry of Environment staff, and private consultants. Funding is provided in part by: Habitat Conservation Trust Foundation, Fish and Wildlife Compensation Program, and NSERC (IRDF) through a research fellowship with Wildlife Conservation Society.
Alberta Research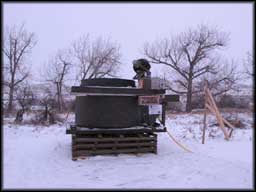 In Alberta, with the help of friends and family, Cori installed a heated water tank (photo left) to begin the process of testing whether bats fly during the winter due to dehydration. To read more about this winter work, see the Gallery & Projects section of this website, or visit the Dinosaur Provincial Park's website.
Most recently (winter 2012-2013), Brandon Klug, PhD Candidate University of Regina, began an intensive research program in Dinosaur Provincial Park. He will test the hypotheses of cold winter bat flight. This research is supported by grants to Cori Lausen from Alberta Parks, and the Alberta Conservation Association. Invaluable in kind support is being provided by Dinosaur Provincial Park.
Because the devastating White Nose Syndrome affects bats during hibernation, it is critical that bat behaviour during winter is understood and hibernacula are discovered. Read more about this on the White Nose Syndrome page of this site.