Cori Lausen has developed and teaches two courses:  Comprehensive Bat Acoustic Training and Bat Capture Techniques.
---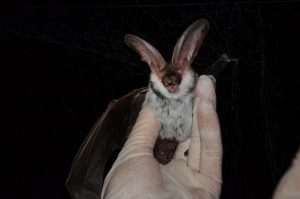 COURSES OFFERED IN 2020 (subject to change)
Bat Inventory Course-Mistnet Capture.  Lillooet, BC, Canada,  POSTPONED – please check back for new dates.  Registration details can be found here.
Comprehensive Bat Acoustics Course.  Richmond, BC, Canada, POSTPONED – please check back for new dates.  Registration details can be found here.
Contact Cori Lausen or Heather Gates for more details regarding any of the courses listed.
All prices are in CAD unless otherwise stated.  Group and student discounts may be available for courses. Meals may be included in some courses, as stipulated.
---
COMPREHENSIVE ACOUSTIC TRAINING
This course is a well-rounded 5 day course that starts with the basics of bat acoustics and bat detector technology.  It includes species identification with an overview of North American species, and through in-field practice, additional in-depth acoustic ID of species in whatever location the course is located (e.g., northwest region, northeast region, etc.).
The analysis component of this course includes practice of workflow patterns, starting with raw files, using autoidentification software, and then doing manual vetting.   The end product is quick and easy pivot-tables and histogram creation in Excel for reporting.
This course will provide a foundation for those participating in the North American Bat Monitoring Program and will thus include a section on site selection and deployment instructions for passive stations and mobile transects.  There will be an overview of all major types of bat detectors with focus on Wildlife Acoustics and Titley Scientific products.  On several nights there will be hands-on practice in the field actively recording bats.
BAT CAPTURE TECHNIQUES
This 6 night, 6 day course provides instruction in the capture of bats for inventory.  It includes hands on practice with mistnetting and an introduction to radiotelemetry.  We will also cover the updated (2020) Provincial Resources Information Standards Committee (RISC) protocols for BC.  Participants must show proof of rabies immunization.
Course location: Lillooet, B.C. where a large range of habitats in a small area make for an ideal environment to learn how to capture bats with mistnets and harp traps. Twelve species of bats are in the area, including spotted bats which are regularly captured.
---
COMPLETED WORKSHOPS:
2019
8-12 July 2019; Saskatoon, SK – Comprehensive Acoustic Training
2018
7-11 May 2018; Vancouver, BC, Canada – Comprehensive Acoustic Training
4-8 June 2018; Edmonton, AB, Canada – Comprehensive Acoustic Training
2017
5-7 April 2017; Phoenix, AZ – Wildlife Acoustics Training
18-20 May 2017; Maynard, MA – Wildlife Acoustics Training
29 May-3 June 2017; London, ON, Canada – Techniques and Analysis
12-16 June 2017; Spokane, WA –  Comprehensive Acoustics Training
31 July – 4 Aug 2017; Lethbridge, AB, Canada – Comprehensive Acoustics Training
20-26 July; Lillooet, BC, Canada – Bat Capture Techniques
31 July – 4 Aug 2017; Lethbridge, AB, Canada – Comprehensive Acoustics Course
2016
15-20 May 2016; Creston, BC, Canada – Comprehensive Acoustics Training – Wildlife Acoustics and Anabat
24-27 May 2016; Point Pelee National Park, ON, Canada – Techniques and Hardware
27-29 May 2016; Point Pelee National Park, ON, Canada – Analysis
2015
10-12 February; Miami, Florida – Wildlife Acoustics Techniques & Hardware
26 February-3 March; St. Louis, Missouri – Comprehensive Acoustics Training
– Wildlife Acoustics & Anabat
14-16 April; Phoenix, Arizona – Wildlife Acoustics Techniques & Hardware
11-15 May; Hinton, AB,Canada – Comprehensive Acoustics Training
– Wildlife Acoustics & Anabat
17-19 June; Mattawa, ON, Canada – Wildlife Acoustics Training
2014
21-23 April; Phoenix, Arizona – Wildlife Acoustic Techniques & Hardware
24-26 April; Phoenix, Arizona – Acoustic Analysis
6-9 May; Connersville, Indiana – Anabat Techniques
9-11 May; Connersville, Indiana – Acoustic Analysis
20-24 May; Radium, BC, Canada – Anabat Condensed Course
3-5 June; Maynard, Massachusetts – Wildlife Acoustics Course
9-12 June; Boise, Idaho – Acoustic Techniques & Hardware
–Wildlife Acoustics & Anabat
12-14 June; Boise, Idaho – Acoustic Analysis
2013
19-22 August; Columbia, Missouri – Anabat Techniques
22-24 August; Columbia, Missouri – Acoustic Analysis
21-24 May; Calgary, Alberta – Acoustic Techniques
24-26 May; Calgary, Alberta – Acoustic Analysis
6-9 May; Akron, Ohio – Anabat Techniques
9-11 May; Akron, Ohio – Acoustic Analysis
2-4 May; Unicoi State Park, Georgia – Acoustic Analysis
29 April-2 May; Unicoi State Park, Georgia – Anabat Techniques
4-6 April; Santa Fe, New Mexico – Wildlife Acoustics Course
5-7 March; Mammoth Cave Park, Kentucky – Wildlife Acoustics Course
30 January-1 February; Santa Cruz, Calif – Wildlife Acoustics Course
2012
1 June-3 June; Stanley Park, Vancouver, BC, Canada – AnalookW Analysis
29 May-1 June; Stanley Park, Vancouver, BC, Canada – Anabat Techniques
15 May-18 May; Forest, Mississippi–Anabat Techniques
9-11 May; Boston, Massachusetts – Wildlife Acoustics Course
1-5 May; Charleston, West Virginia – AnalookW Analysis
30 April-3 May; Charleston, West Virginia – Anabat Techniques
3-4 April; Denver, Colorado – Wildlife Acoustics
2011
27-29 September; Edmonton, AB, Canada – AnalookW Analysis
27-30 June; Brazil, Indiana – Anabat Techniques
21-24 June; Boise, Idaho – Anabat Techniques
30 May-2 June; Creston, BC, Canada – Anabat Techniques
10-14 April; Desert Studies Center, Baker CA – Anabat Techniques
18-21 April; Falling Creek Falls State Park, Pikeville TN – Anabat Techniques
1-3 March; Akron, Ohio – AnalookW Analysis
18-21, January; Sacramento, California – AnalookW Analysis
2010
19-22 October; Las Vegas, Nevada – Analysis
8-11 June; Casper, Wyoming – Techniques
27-30 April; Warsaw, Illinois – Techniques