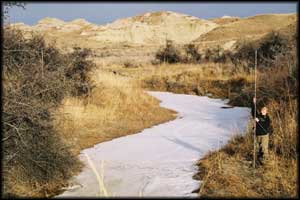 Netting bats in Canada in winter? Yep! In 2003, Cori discovered that bats are active in winter in the Alberta prairies. Using passive acoustic montoring [Anabat], she found bats were flying in the river valleys at night—at temperatures as low as -8C, even when day temperatures didn't get above freezing!
Cori and Michael decided to try catching them mid-winter using mistnets….and it worked! They put radio-transmitters on the bats and tracked them to find their hibernacula. They then discovered that the bats weren't over-wintering in caves, as is typically thought, but were crawling into deep cracks in the river valley walls.
You can hear Cori describe this project on the CBC Radio program Quirks and Quarks, in an interview with Bob MacDonald, and read a synopsis in Bat Conservation Times. This work has been published in the Canadian Journal of Zoology.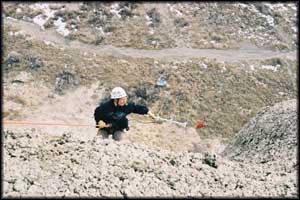 Finding bat roosts can be a real challenge…..often requiring ropes and climbing skills. Here Cori rapels during the winter to find the hibernaculum of a bat that she fitted with a transmitter the night before.
Once bats are outfitted with transmitters, radio-telemetry can be used to locate them as they fly or while roosting. In this way, bat roosts are discovered….but not easily!
Using these techniques, Cori discovered that bats hibernate in deep rock crevices in the Alberta prairies.
Why do bats fly in the Winter?
This was an obvious question coming out of Cori's PhD research. To help answer this question, a heated water tank has been installed at Dinosaur Provincial Park. Based on preliminary findings, bats may be coming out for a drink of water. If you'd like to read more about this ongoing research, please visit the Dinosaur Provincial Park website.
B.C. Bats Fly in the Winter, too!
Now living in B.C., Cori has expanded her winter research to the mountains. Several study sites across the west Kootenay region were sources of data for Cori during 2009-2010.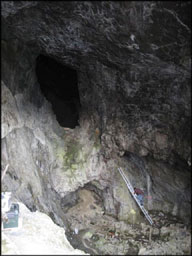 Winter bat work is full of unique challenges: icy logging roads required chains; a child's plastic sled served as a great way of moving heavy equipment around; one of the winter study sites, Fort Shepherd, is a conservancy area near Trail, B.C. and is closed to motorized vehicles during the winter. As such, Cori canoed across the Columbia River to download data from her passively recording bat detector [photo below]. This is a relatively warm, dry area and bats were detected flying here most of the 2009-2010 winter.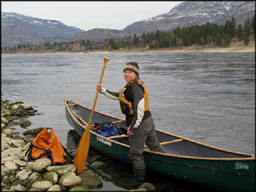 The 2009-2010 winter field work was unplanned, but the warm weather was an irresistible opportunity to learn much needed information about winter bat ecology. This work wouldn't have been possible without the generous volunteer assistance provided by Cori's husband Michael [pulling the sled in photo at right], and colleague Thomas Hill of Nelson, B.C. [photo far left].