It is critical to keep track of the tides when doing bat work on Haida Gwaii–the boat had to be anchored far enough from the shore to avoid being beached. Moving gear and people back and forth by dingy was often challenging due to rough surf.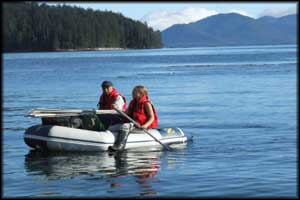 An inflatable dinghy was used to row gear between the Parks Canada jet-boat and shore. Getting a dinghy full of 10 ft long mistnet poles through the rough shoreline surf at night often resulted in a refreshing ocean-water bath! On the 'bright side', the bioillumination paddle was a spectacular reward!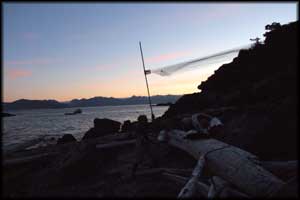 On Haida Gwaii, bats can be seen flying along the beach. Netting for bats along the ocean beaches of Haida Gwaii was a magnificent experience. On Hotspring Island, pictured here, female bats give birth to young in rock cracks along the beach where natural hot springs keep the rocks warm. Cori and Parks Canada biologist Doug Burles netted this beach to capture Keen's myotis[see photo below], a rare species of bat.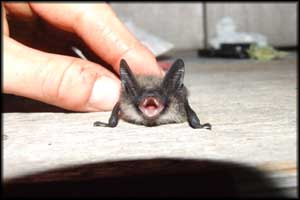 Haida Gwaii is home to several species of bats, including this one, the Keen's myotis. This long-eared bat is 'red-listed' in B.C. due to its restricted distribution; in North America it is found only in the NW coastal region.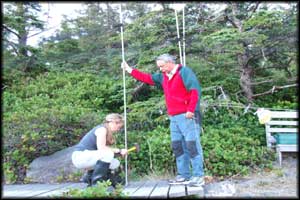 Here, Cori and Doug set a net near one of the main pools on Hotspring Island, at the southernmost tip of Haida Gwaii.