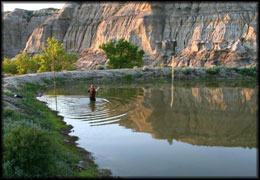 From 2005 – 2009, Cori conducted many bat surveys for the US Forest Service [Region 1]: Flathead, Helena, Lewis and Clark, Beaverhead-Deerlodge, and Gallatin National Forests in Montana, and Little Missouri National Grasslands in North Dakota. In 2009, Cori also conducted an extensive survey for the Confederated Kootenai and Salish Tribes on the Flathead Reservation in Montana.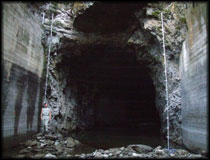 A few noteworthy findings from these surveys included the first record of Townsend's Big-eared Bat in North Dakota, confirmation of Yuma Myotis in the state of Montana, and a surprisingly large capture ratio of Fringed Myotis in the Flathead Reservation of Montana.
Montana and North Dakota tout spectacular scenery and fantastic bat diversity. Over the years there were many challenges, including setting triple high nets at dam outflows [photo at left shows Janene Lichtenberg, biologist with CKST, MT], and netting over deep dugouts [photo above right, Cori in North Dakota June 2009].